2019 BI & Analytics Gartner Magic Quadrant
Gartner's 2019 'Magic Quadrant' for BI & Analytics has been released. Microsoft and Tableau continue to be recognised as Leaders.
Montage are New Zealand's only consultancy with both Microsoft Gold and Tableau Partner status, and are proud to partner with both these market leaders.
Montage support Microsoft (inc Power BI) and Tableau clients with product selection, license purchases, development and user training and mentoring.
The 2019 Magic Quadrant for BI & Analytics is: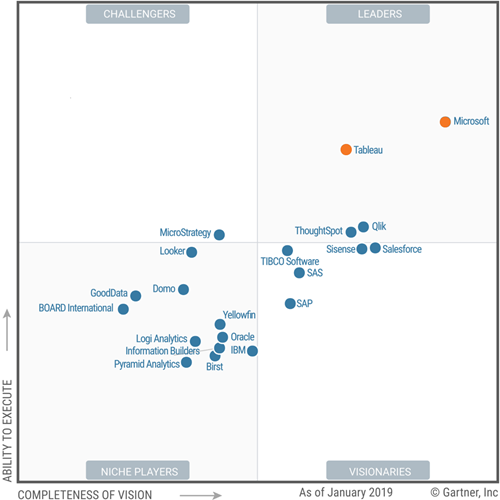 (Source: Gartner. Read the full report here)
Some interesting quotes from the 2019 Gartner report include:
"Most buyers look initially at the licensing cost. Gartner, however, continues to recommend that customers look at the total cost of ownership, which includes the costs of deployment, scaling up, varying efforts to author content, and ongoing training and enablement."
"According to surveyed reference customers, 64% are increasing the numbers of users and the amount of business-authored content."
"Data storytelling requires a more data-literate workforce to be able to present data in a way that offers insights faster, improves memory retention and leads to desired actions ... Turning IT report developers and data experts into communicators requires new levels of communication technique and training."
"...adoption of cloud analytics and BI continued in 2018. Most net new deployments originating in the cloud, and the majority of the reference customers surveyed for this Magic Quadrant, are already using various forms of cloud deployment."
Gartner identify the below business benefits achieved by investing in BI & Analytics:
Increased revenue
Better, faster decisions
Improved customer satisfaction
Reduced IT head count
Reduced external IT costs
Reduced non-IT costs
Expansion of types of analysis
Availability of better insights to more people
Linking of KPIs to corporate objectives
Monetisation of data
For more information on these products, or for help in assessing which might be best for your organisation, get in contact with us and we'll be happy to help.
Microsoft strengths:
Low-priced incumbent with positive sales experience:

 "Microsoft has put downward pricing pressure on the analytics and BI market ... many organisations have Microsoft enterprise software agreements, even when Power BI is not yet deployed, it appears on most shortlists by default. License cost was the second most important reason for reference customers to choose Microsoft Power BI"

Ease of use for complex types of analysis:

 "Reference customers continue to recognise Microsoft for its ease of use — they gave it top-third ratings across all aspects of ease of use ... Power BI supports complex data models with integrated advanced analytics ... Microsoft came in the top third for the use of its product for complex types of analysis."

Comprehensive product vision:

 "... Investments include enhancements to augmented analytics ... such as text, sentiment and image analytics and AI, will also be available through Power BI for use by people with minimal data science skills ... Important roadmap items include full support for existing Reporting Services reports, a common and open data model, and open data preparation with data flows."
Tableau strengths:
Easy visual exploration and data manipulation:

 "Tableau enables users to rapidly ingest data from a broad range of data sources, blend them, and visualise results using best practices in visual perception. Data can be manipulated while visualising — such as when creating groups, bins and new hierarchies — all with a high degree of ease of use."

Customers as fans:

 "... Reference customers placed Tableau in the top third of Magic Quadrant vendors for customer experience, and gave it high scores for achievement of business benefits. Tableau sets the industry standard for user enablement with Meetup groups, roadshows, online tutorials and availability of skills in the market."

Momentum:

 "Tableau grew ... double-digit growth compared with 2017. This was despite moving to subscription-based licensing, which often impairs a vendor's growth. Tableau remains at the top of many customers' shortlists, and continues to expand within its installed base. The Tableau Foundation and Tableau Public have been a force in the Data for Good movement, having recently pledged $100 million in funding over the next seven years."