Gartner Magic Quadrant for Analytics & BI - 2021
Gartner's 2021 'Magic Quadrant' for BI & Analytics has been released. Microsoft and Tableau continue to be recognised as Leaders.
Montage are New Zealand's only company with partnerships with both Microsoft and Tableau and are proud to partner with both these market leaders. Montage are a Microsoft Gold Data & Analytics partner, and a Tableau Premier (Gold) Partner.
Montage supports Microsoft (including Power BI) and Tableau clients with product selection, license purchases, report and dashboard development, and user training and mentoring. For help in assessing which might be best for your organisation, get in contact with us and we'll be happy to help.
The 2021 Magic Quadrant for Analytics & BI is: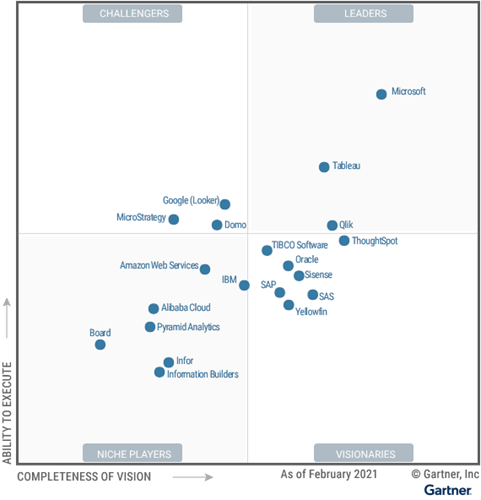 (Source: Gartner, Feb 2021. Read the full report here)
Some interesting quotes from the 2021 Gartner report include:
"ABI platforms are no longer differentiated by their data visualization capabilities, which are now commoditized. All vendors can build interactive key performance indicator (KPI) dashboards using common chart forms (bar/column, line/area, scatter, pie and geographic maps) and drawing on a wide range of data sources. Differentiation has shifted to how well platforms support augmented analytics."
"Augmentation utilizes machine learning (ML) and artificial intelligence (AI)-assisted data preparation, insight generation and insight explanation to help business people and data analysts explore and analyze data more effectively than they could manually. Rather than being a discrete capability, augmentation is now threaded through platforms as ML is applied across the data-to-decision workflow."
Microsoft strengths (includes Power BI and Azure):
Alignment with Office 365 and Teams: The inclusion of Power BI in the Office 365 E5 SKU has provided an enormous channel for the platform's spread, making it "self-seeding" in many organizations. The increasing integration of Power BI into Microsoft Teams, with its tens of millions of daily active users, will further increase Power BI's reach in the world of remote working. Power BI is now often the option that organizations have in mind when using Gartner's client inquiry service to ask about ABI platform selection — "why not Power BI?" is effectively the question most are asking.
Price/power combination: The influence of Power BI has drastically reduced the price of tools in the ABI platform market since its launch. In this case, though, low price does not equate to limited functionality. The Power BI cloud service is extremely rich in its capabilities, which include an enlarged set of augmented analytics and automated ML capabilities. AI-powered services, such as text, sentiment and image analytics, are available within Power BI Premium and draw on Azure capabilities.
Scope of product ambition: Microsoft continues to invest in a broad set of visionary capabilities and to integrate them with Power BI. It now claims to have 80,000 customers using AI services in Power BI deployments. It continues to encourage usage at scale by, for example, applying ML-driven automatic optimization of materialized views on Azure Synapse (and soon other data sources, including Snowflake and Redshift) to autotune query performance.
Tableau strengths:
Analytics user experience: Although Tableau keeps adding new capabilities, it always maintains a sleek experience for users, so they can perform analysis seamlessly. Although visual-based exploration is highly commoditized in today's market, Tableau can still differentiate itself by offering an intuitive analytics experience with richer capabilities based on its patented VizQL engine.
Customer enthusiasm: Many customers demonstrate a fanlike attitude toward Tableau, as evidenced by the more than 145,000 people who attended its 2020 online user conference. Tableau Public, a free platform on which to publicly share and explore data visualizations online, has over 3 million interactive visualizations. A user-experience-focused design means that, particularly for users in analyst roles, Tableau's offering is compelling and even enjoyable to use.
Salesforce opportunity: The Tableau Viz Lightning web component offers a low-code experience to simplify the task of integrating Tableau visualizations into Salesforce. Work.com, Salesforce's cloud offering to help organizations reopen workplaces safely and efficiently, uses the Tableau Viz Lightning web component to add a global COVID-19 tracker dashboard to the Workplace Command Center. The deeper integration of the MuleSoft data connector capabilities and a newly acquired Slack collaboration tool means that Salesforce clients have a strengthening set of reasons to consider Tableau.
In 2019, Gartner identified the below business benefits achieved by investing in BI & Analytics:
Increased revenue
Better, faster decisions
Improved customer satisfaction
Reduced IT head count
Reduced external IT costs
Reduced non-IT costs
Expansion of types of analysis
Availability of better insights to more people
Linking of KPIs to corporate objectives
Monetisation of data