Gartner's 2018 BI & Analytics Magic Quadrant
Gartner has released the 2018 'Magic Quadrant' for BI & Analytics, with both Microsoft and Tableau continuing to be recognised as best of breed solutions for organisations turning to data analysis to enhance their business. You can read the full report here.
Montage are New Zealand's only Microsoft Gold and Tableau partner, and are proud to partner with both these market leading solutions.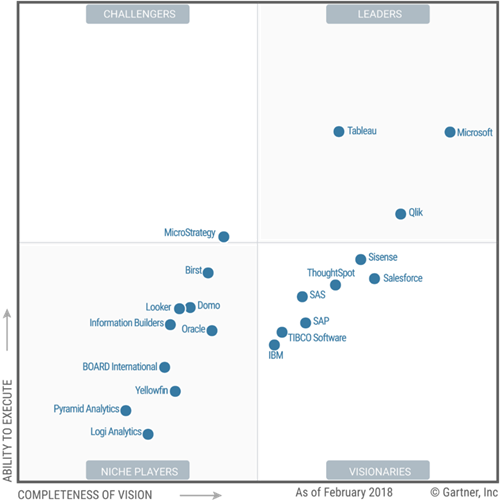 Note: Gartner considers all Microsoft products, not just Power BI, when positioning Microsoft on the quadrant.
Microsoft leads the quadrant in 2018 in 'Completeness of Vision'
Microsoft, including Power BI, continues to be considered by Gartner as one of the top options for businesses assessing their Business Intelligence and Analytics options.
Gartner identified the strengths of Power BI include low license costs, and cites "a strong uptake of Power BI, and high levels of customer interest and adoption. Microsoft has clear and visionary product roadmap that includes vertical industry content."
Other positives included "a strong community of partners, resellers and individual users; and this community extends the product with prebuilt apps, visualizations and video tutorials, in addition to the content provided directly by Microsoft." 
Tableau, the "Gold Standard" continues to lead in 'Ability to Execute'
Gartner calls Tableau the "Gold standard for interactive visual exploration", strong with both centralised and decentralised data analysis.
Gartner highlights that Tableau customers highly rate Tableau, with a very high score for achievement of business benefits, and the highest score for user enablement — both key success measures. In short, businesses that buy Tableau use it, like it, and achieve results.
Tableau skills are in high demand, with Forbes.com citing Tableau as the 3rd highest technical skills growth demand behind Big Data and Node.js (see article here) in 2017.
For more information on these products, or for help in assessing which might be best for your organisation, get in contact with us and we'll be happy to help.